Con el lanzamiento de God of War, NVIDIA ha liberado los controladores para optimizar el título en su llegada a ordenadores. A partir de hoy, los usuarios de tarjetas GeForce RTX que adquieran el título podrán beneficiarse de las tecnologías NVIDIA DLSS y Reflex.
Cuando se activa DLSS en God of War, el rendimiento del título mejora hasta un 45% a resolución 4K, permitiendo a los jugadores utilizar configuraciones gráficas más exigentes y disfrutar de tasas de cuadros por segundo más altas.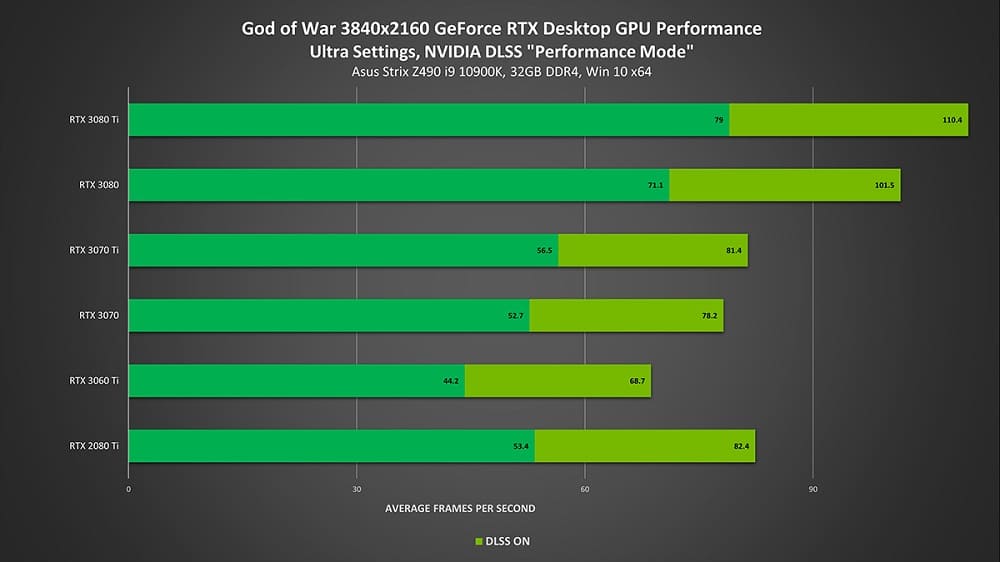 En el caso de Reflex, que ayuda a reducir el tiempo de respuesta desde que el jugador pulsa una tecla hasta que la acción se refleja en el título, God of War reduce la latencia hasta un 22%. Los usuarios de tarjetas gráficas GeForce 900 y superiores podrán beneficiarse de esta tecnología.
Con los nuevos controladores, también llegan otras novedades:
DLDSR: la nueva tecnología que usa la inteligencia artificial, mejora los gráficos de juegos poco exigentes renderizando las imágenes a resoluciones superiores para luego reducirlas al tamaño de la pantalla, suavizando los gráficos y ofreciendo imágenes de mayor calidad.
Nuevos filtros FreeStyle: los nuevos filtros avanzados serán accesibles pulsando Alt+F3 mientras se juega cuando el overlay de GeForce Experience está activado. Se han incluido 3 nuevas opciones:

SSRTGI (Screen Space Ray Traced Global Illumination), también conocido como "Ray Tracing ReShade Filter", mejora la iluminación y las sombras para crear una sensación de mayor profundidad y realismo.
SSAO (Screen Space Ambient Occlusion), que enfatiza las sombras junto a las intersecciones de objetos 3D, especialmente en interiores y entornos con iluminaciones tenues.
Dynamic DOF (Depth of Field), que aplica un desenfoque de estilo bokeh basado en la proximidad de los objetos de una escena otorgando un estilo más cinematográfico al juego.