Samsung Electronics ha lanzado hoy a nivel mundial el modelo 2021 de su pantalla LED modular The Wall (IWA). Con la nueva tecnología de procesamiento de Inteligencia Artificial, una velocidad mejorada de fotogramas de 120 Hz y una mayor versatilidad en las opciones de instalación, este año The Wall reimagina una vez más la tecnología de visualización para ofrecer a las empresas una flexibilidad ilimitada para mostrar sus contenidos.
"En Samsung creamos las pantallas más innovadoras para aquellos que están a la vanguardia en lo relativo a la creación de vídeo y la experiencia de marca", ha explicado Hyesung Ha, vicepresidente senior de Visual Display Business en Samsung Electronics. "The Wall 2021 es la pantalla más inmersiva y versátil que hemos diseñado hasta el momento, donde ofrecemos a las empresas un control total para crear entornos de ensueño".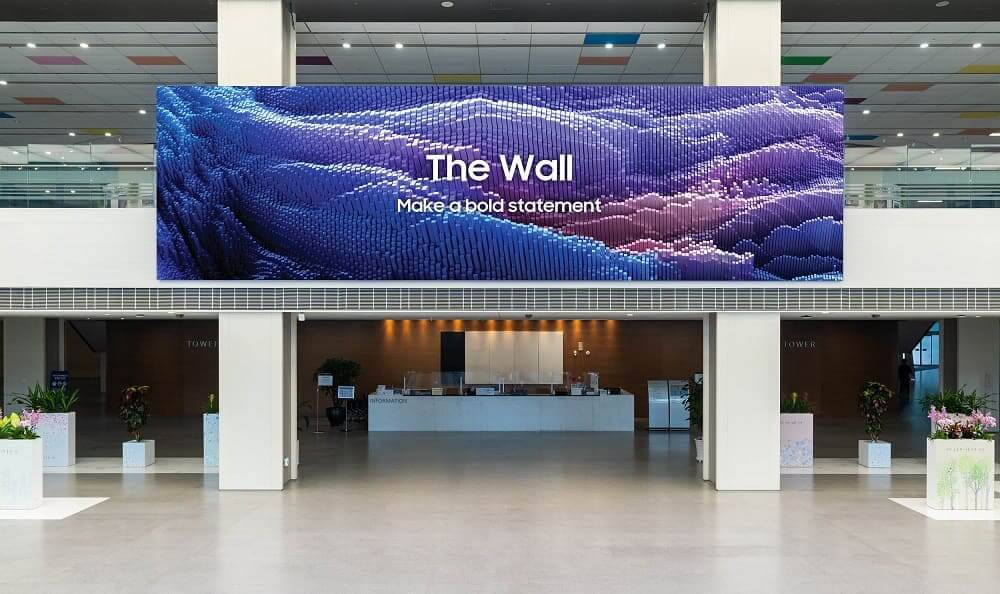 Un nuevo procesador Micro AI analiza y mejora instantáneamente cada fotograma de vídeo para aportar la mejor calidad de imagen posible. Con hasta 16 modelos de redes neuronales diferentes -cada uno de ellos diseñado con tecnología de escalado de IA y aprendizaje profundo- el procesador Micro AI puede optimizar la calidad de la imagen hasta una resolución de 8K, mejorando el contraste y eliminando el ruido.
La tecnología Black Seal de The Wall dota a la pantalla con una uniformidad perfecta, lo que conforma un lienzo sin fisuras con unos niveles de negro más puros y con una profundidad mejorada, que ofrece un contraste inigualable y detalles más precisos. Con un brillo máximo de 1.600 nits, The Wall proporciona imágenes claras que destacan incluso en ambientes luminosos. La tecnología Ultra Chroma produce longitudes de onda más estrechas que crean colores RGB dos veces más puros y precisos que los LED convencionales. Ahora, cada LED es hasta un 40% más pequeño, lo que aumenta el espacio negro puro entre píxeles para mejorar la uniformidad del color y aumentar el contraste de la imagen.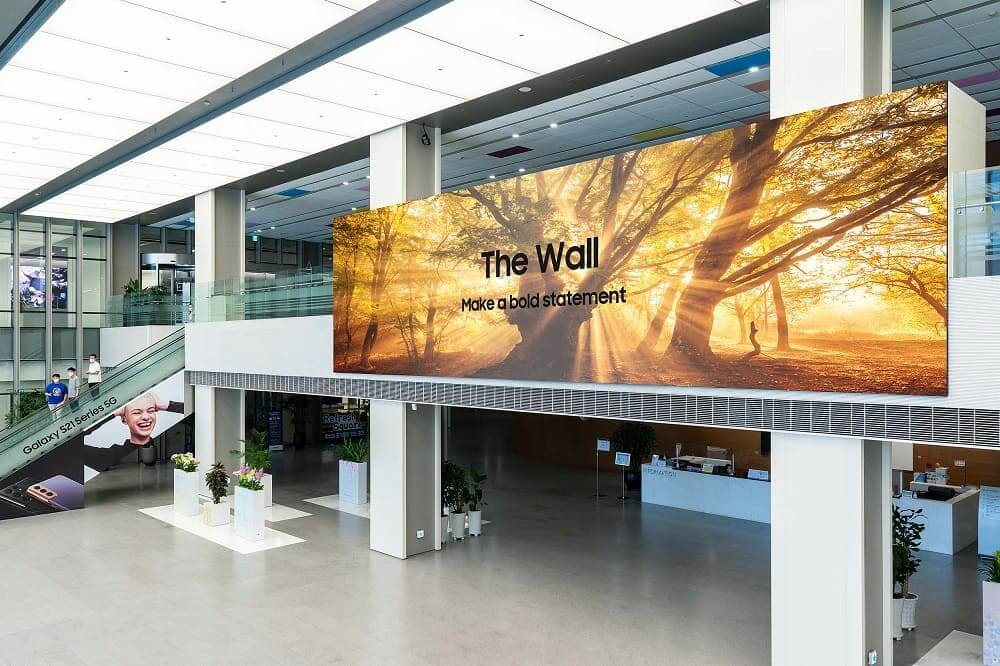 El modelo de este año es más fácil de instalar gracias a las nuevas conexiones de acoplamiento inalámbricas y a un diseño sin marco, lo que hace que la profundidad del cuerpo sea la mitad que antes. Gracias a la tecnología modular, The Wall 2021 puede instalarse en diversas posiciones y formas, como cóncava, convexa, en el techo, colgada, inclinada y en L. Además, los usuarios solo tienen que ajustar una vez cada pieza con el Ajuste de Fábrica, lo que elimina el ajuste módulo por módulo y ahorra tiempo.
El modelo de 2021 ofrece su imagen más detallada hasta la fecha, con la primera resolución 8K del sector, una frecuencia de refresco de 120 Hz y la reproducción Simple 8K. La pared puede configurarse horizontalmente para una resolución de hasta 16K con una disposición de 15.360 x 2.160 píxeles. Su enorme pantalla mide más de 1.000 pulgadas, lo que crea un lienzo completamente amplio para mostrar el contenido.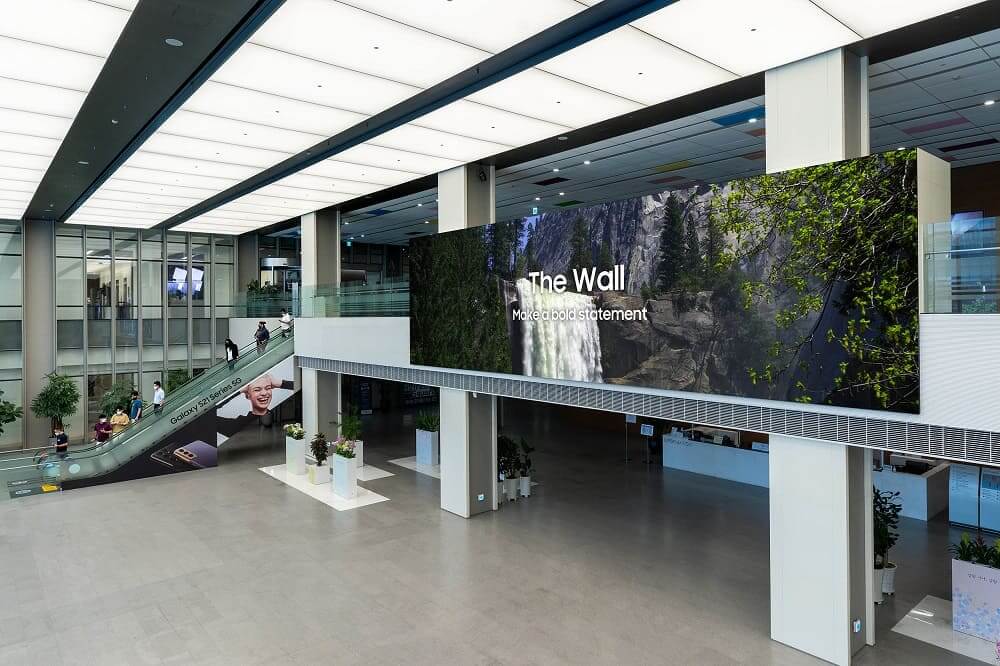 The Wall posee las nuevas funciones Micro HDR y Micro Motion, y cuenta con un procesamiento de 20 bits para ofrecer una calidad de imagen homogénea y adecuada en todos los entornos comerciales, para una experiencia de visualización fluida independientemente de la ubicación. La pantalla de imagen por imagen (PBP), permite cuatro fuentes de contenido diferentes, que se pueden mostrar simultáneamente en resolución 4K. La función 4-PBP puede utilizarse para fines comercial en los que se necesiten varias pantallas.
Todas las funciones de The Wall se ofrecen teniendo en cuenta la seguridad. TÜV Rheinland le ha concedido la certificación Eye Comfort para minimizar la emisión de luz azul, mientras que su certificación EMC Clase B minimiza las ondas electromagnéticas para una instalación segura en los hogares.
El modelo de The Wall 2021 de Samsung está disponible desde hoy en determinados mercados de todo el mundo.