La Edición Deluxe de Song of Horror llegará este verano y será distribuida por Meridiem Games en España y Europa.
Faltan muy pocas semanas para el estreno oficial en edición física de Song of Horror en PlayStation 4, el aclamado juego de terror desarrollado por Protocol Games y publicado por Raiser Games. Por esta razón Meridiem Games quiere anunciar el incentivo por realizar la reserva del juego en las Tiendas Game: un exclusivo set de cartas del tarot inspiradas en el propio juego. Esta baraja se compone de 5 cartas, cada una de ellas es una de las manifestaciones de La Presencia: (La puerta, La oscuridad, El silencio, El abismo y El requiem). Este incentivo será limitado y solo válido hasta final de existencias.
Song of Horror: Deluxe Edition para PlayStation 4 estará a la venta en tiendas especializadas de toda Europa con contenido exclusivo. La edición incluye una funda especial con la icónica ilustración de La Presencia, la entidad sobrenatural que será el mayor enemigo de la historia. También una guía de mapas, el complemento ideal para la exploración de los diferentes escenarios, que ofrecerá preciadas pistas sobre las ubicaciones de los objetos especiales. Y una guía de personajes que recopila detalles y curiosidades inéditas sobre los 13 personajes que podremos controlar en el juego.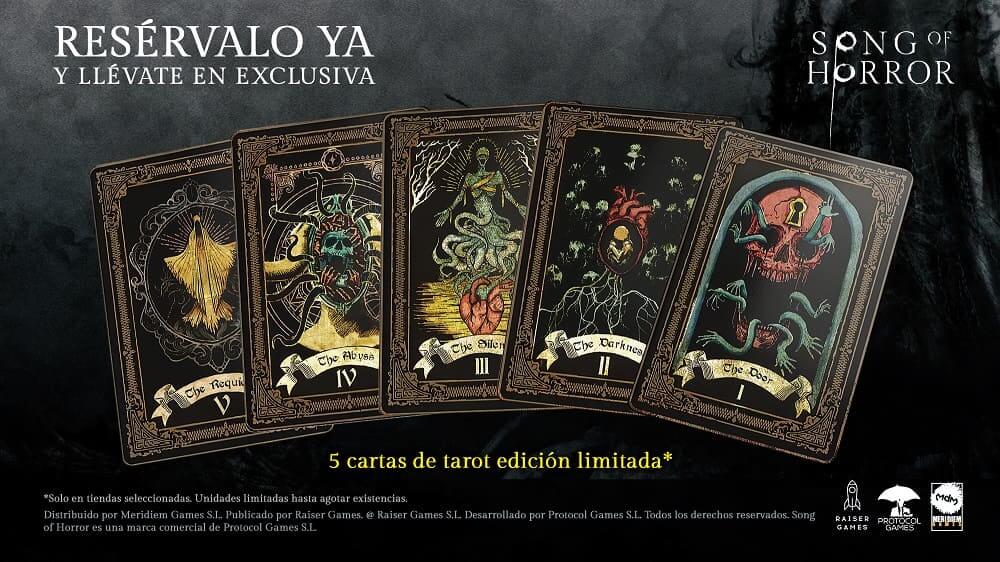 Song of Horror es una aventura de terror en tercera persona que rinde homenaje a los clásicos del género. Ayuda a nuestro protagonista, Daniel Noyer, a resolver un terrible misterio, controlando hasta a 13 personajes jugables.
El juego se centra en la narrativa, con una historia que recoge influencias de maestros como Poe, Lovecraft y M.R. James en La Presencia, una IA (Inteligencia Artificial) capaz de generar todo tipo de peligros de forma procedural, y en la muerte permanente de sus personajes. (Aunque puedes adaptar tu partida, y jugar sin muerte permanente si así lo decides).
El juego trae de vuelta las sensaciones de los clásicos del terror junto con mecánicas modernas e innovadoras.
CARACTERÍSTICAS:
Una entidad imparable: Song of Horror ofrece una experiencia de terror verdaderamente dinámica: su antagonista, la entidad sobrenatural conocida como La Presencia, está controlada por una IA avanzada (Inteligencia Artificial) que se adapta a tus acciones y decisiones. Experimenta un miedo insoportable mientras este ser de otro mundo, responde a tu forma de jugar y te persigue de formas inesperadas, ofreciendo una experiencia única para cada jugador y su forma de jugar, donde la tensión se acumula de forma natural en lugar de provenir de secuencias con guiones.
13 personajes jugables: Vive historia a través de los ojos de varios personajes relacionados con la historia. Cada personaje es diferente y aporta un punto de vista único a la investigación, lo que permite abordar las pistas y los elementos de manera diferente. Sus acciones y decisiones darán forma al mundo: algunos de ellos conocerán más o menos aspectos de la historia; otros serán más efectivos contra manifestaciones sobrenaturales, pero todos pueden morir a manos de la Presencia y la muerte es permanente. Si mueren, tendrás que retomar la historia con otro personaje y continuar la investigación para que sus muertes no sean en vano.
Explora lugares terroríficos: Una misteriosa tienda de antigüedades, una abadía olvidada, un manicomio abandonado… Cada ubicación de Song of Horror está inspirada en los clásicos del género de terror. Explora e investiga lugares encantados para reunir pistas y elementos que te ayudarán a resolver desafiantes acertijos mientras soportas la tensión agonizante de la atmósfera del juego.