NVIDIA GeForce ha resaltado dos novedades que llegarán este mes de octubre. La primera, consiste en un nuevo lote que ofrece una copia digital de Marvel's Guardians of the Galaxy por la compra de un sistema, portátil o sobremesa, equipado con una tarjeta gráfica GeForce RTX de la serie 30, desde la 3060 hasta la 3090.
Los usuarios con tarjeta gráfica GerForce RTX podrán disfrutar de la versión definitiva de Marvel's Guardians of the Galaxy, ya que el juego presenta unos gráficos mejorados con reflejos generados por trazado de rayos en tiempo real y un gran rendimiento, asegurado por la tecnología NVIDIA DLSS.
Para más información sobre el bundle, NVIDIA ha creado una página con todos los detalles al respecto.
NVIDIA también ha anunciado que Alan Wake Remastered, la versión actualizada de la aclamada aventura de Remedy Entertainment, ya está disponible con NVIDIA DLSS. El juego, cuyo lanzamiento original se remonta a 2010, llega remasterizado y compatible con DLSS, que llega a doblar el rendimiento a resolución 4K.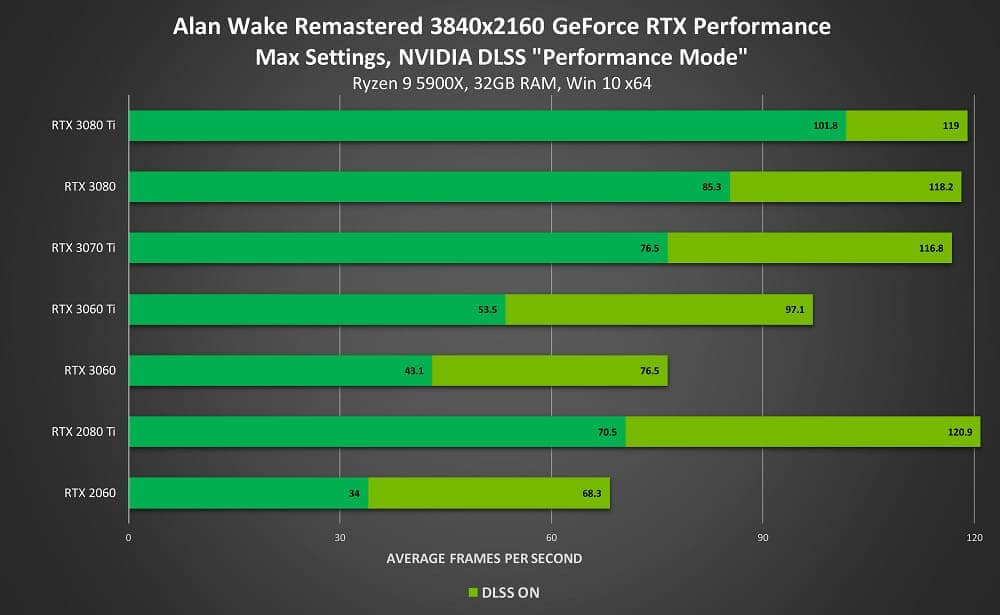 Alan Wake Remastered está disponible en Epic Games Store junto al aclamado título RTX de Remedy, Control.
Las tarjetas gráficas GeForce RTX para ordenadores portátiles y de sobremesa están equipadas con la última tecnología de hardware de NVIDIA. Los RT Cores permiten ejecutar efectos ray tracing en tiempo real, mientras que los Tensor Cores sirven como motor para el Deep Learning Super Sampling, o DLSS, que es capaz de generar imágenes limpias y detalladas a partir de imágenes más pequeñas apoyándose en la inteligencia artificial.