El esperado RPG de acción y aventura, Tails of Iron, ya está oficialmente disponible en PS5, PS4, Xbox Series X|S, Xbox One y Nintendo Switch. Los jugadores pueden por fin explorar los biomas dibujados a mano, luchar contra los generales sobredimensionados del Clan de la Rana y participar en el salvaje enfrentamiento entre roedores y anfibios, todo ello mientras escuchan la narración del icónico Doug Cockle (Geralt of Rivia de la serie de juegos The Witcher).
Las ediciones de nueva generación mejorarán aún más el título, ya que los jugadores se beneficiarán de los gatillos adaptativos DualSense, que mejoran la experiencia de combate con respuestas ponderadas al bloquear, parar o cargar un arma, además de la resolución 4K nativa y los gráficos a 60 fps.
Creado por el equipo de desarrollo indie Odd Bug Studio y publicado por United Label, Tails of Iron sigue la historia de Redgi, heredero del Trono de la Rata, mientras se embarca en una peligrosa búsqueda para reclamar su reino al despiadado Clan de la Rana. El nuevo y espeluznante tráiler de lanzamiento confirma que los jugadores necesitarán una «voluntad de hierro» si tienen alguna esperanza de rescatar a sus hermanos y restaurar la paz en la tierra.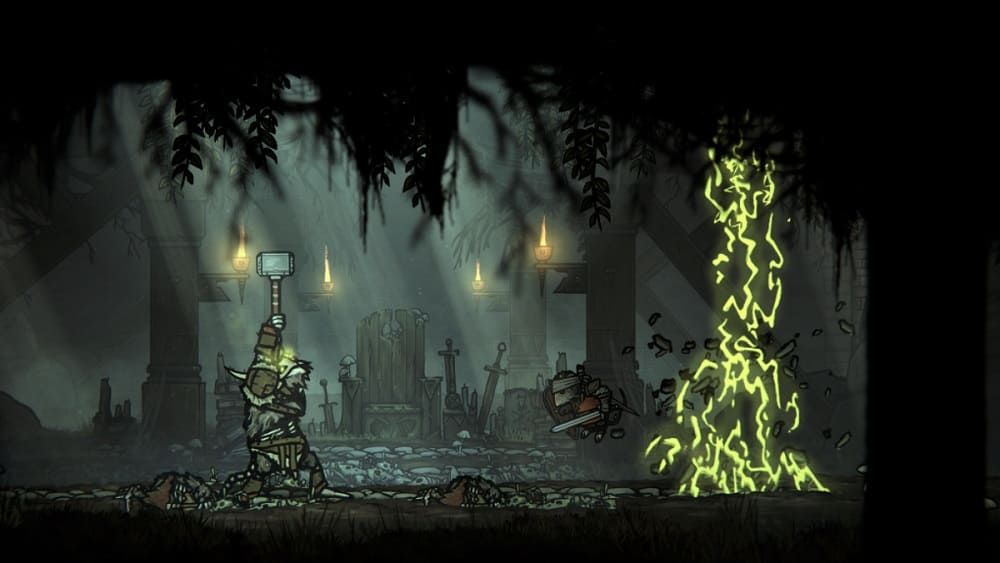 Desde zombis rana hasta larvas gigantescas, y todo lo demás, el Reino está lleno de peligros. Los jugadores tendrán que dominar una serie de habilidades mortales, como paradas, ataques a distancia y horripilantes ejecuciones, para salir victoriosos. Cada uno de los numerosos jefes presenta su propio desafío de combate, y también hay una gran variedad de armas y equipos para ayudar a los héroes, cada uno con sus propias características; la armadura pesada puede proporcionar una mejor protección, pero ¿puedes permitirte ralentizar tu tirada de esquivar? Mientras que las hachas pueden ser muy potentes, una lanza rápida y ágil se beneficia de un mayor alcance.
El artista y animador principal, Daniel Robinson, se inspiró para crear Tails of Iron gracias a las personalidades de sus propias ratas, que lamentablemente no sobrevivieron a la finalización del juego. «Durante el desarrollo, las ratas siempre estaban ahí para mantener mi moral alta y despertar mi creatividad», dice. Explica que «Redgi es el protagonista principal porque era la rata más valiente y leal de nuestra manada. Los demás personajes están basados en los hermanos reales de Redgi (como se ilustra en el cuadro de abajo). Robinson también quiere cambiar la percepción social de las ratas en general. Afirma: «Tenía muchas ganas de hacer un juego sobre las ratas porque los medios de comunicación y el público en general las perciben muy negativamente, pero son las criaturas más afectuosas y cariñosas».
Características de Tails of Iron:
Combate brutal.
Un vasto y traicionero reino compuesto por seis biomas distintos, cada uno con sus propios caminos y secretos ocultos
Una historia convincente narrada por la voz profunda y ronca del legendario Doug Cockle
Estilos de ataque personalizables con una amplia gama de armas y armaduras distintas
Una serie de misiones secundarias que ofrecen a los jugadores oro adicional
Planos ocultos para forjar nuevas y poderosas armas
Salvajes combates contra los mortíferos generales del Clan de la Rana
Un magnífico estilo artístico 2D dibujado a mano con mucho cariño
Tails of Iron ya está a la venta en formato digital en PS5, PS4, Xbox Series X|S, Xbox One, Nintendo Switch y PC. Los jugadores también pueden adquirir una versión física del título; apodada la edición Crimson Knight, llega con doce skins adicionales, que honran a esta noble línea de guerreros Rata.