La llegada de Tape: Unveil the Memories viene a corroborar lo que yo ya sabía: que tenemos mucho talento nacional que merece la pena ser apoyado. Así lo demuestran BlackChilliGoat Studios con este título respaldado por PSTalents. Una historia de misterio con grandes referencias al terror clásico y una narrativa atrapante. No hablamos de un juego de miedo al uso, más bien la intriga es la protagonista, pero he conectado desde el minuto uno con este debido al ingenio que demuestra el equipo por exprimir al máximo sus herramientas.
Tape: Unveil the Memories es atrapante
Tape: Unveil the Memories consigue atraparte desde el primer momento debido a la tensión que sabe generar desde un inicio. En una época en la que el género de terror en primera persona ha revivido con títulos como Yuoni, Insomnis o Summer of '58, es fácil pensar que este título se sitúa en la misma tesitura, sin embargo, no es así. Efectivamente, vamos a sentirnos incómodos en nuestro sillón mientras jugamos, (sobre todo cuando tenemos que escondernos de cierto monstruo), pero pronto vamos a ver que lo que tenemos frente a nosotros es una historia de misterio e intriga que se aleja bastante del jumpscare, de hecho, hace mucho uso del apartado sonoro para transmitir incomodidad.
En esta historia encarnaremos a Iria, una joven que se embarca en un viaje revelador a través de sus recuerdos para descubrir la verdad sobre la figura de su padre ausente. De esta manera, el jugador se ve envuelto en una trama llena de giros sostenida por una atmósfera que hace honor a los thrillers psicológicos o, al menos, así me ha parecido a mí.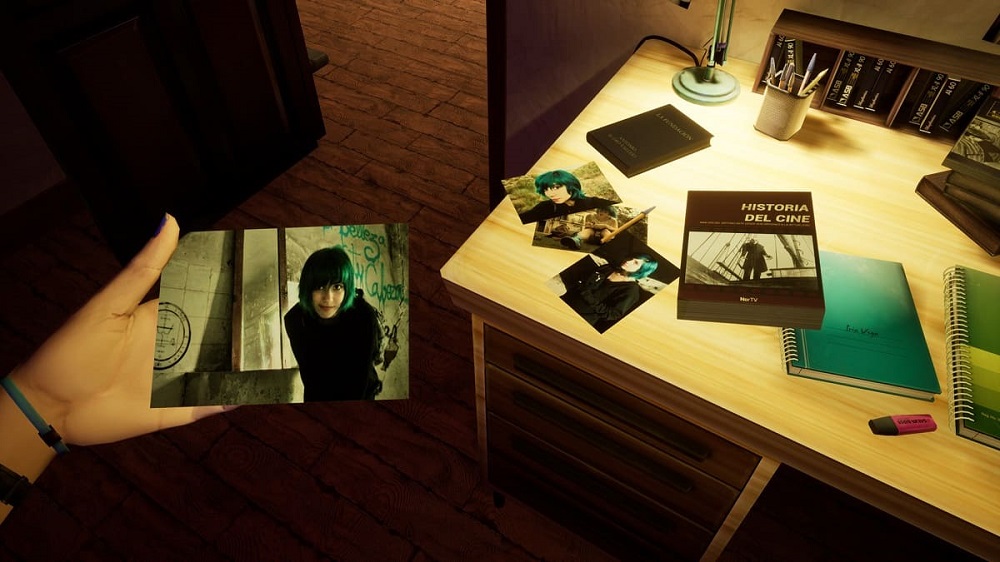 A lo largo de aproximadamente cinco horas, la exploración se vuelve una pieza fundamental en el descubrimiento de la trama, introduciendo una mecánica que me ha parecido muy interesante: el uso de la cámara. ¿A qué me refiero con esto? Veréis, Tape se ambienta en los años noventa encontrando referencias como cintas y cassettes a lo largo del recorrido. Pronto descubriremos que el cine es uno de los ejes principales cobrando sentido la cámara. Sin embargo, no penséis que la vamos a usar para identificar seres anómalos al estilo Project Zero. No, en esta ocasión será nuestra herramienta para solucionar puzles, ya que con la cámara vamos a poder retroceder y avanzar el tiempo de ciertos objetos que nos impiden el paso, entre otras funciones.
Realmente, Tape no es un título especialmente complejo, pero lo compensa añadiendo ingenio en sus puzles. En algunos, la solución es obvia y, tal vez, se peque de ensayo y error en algunos de ellos, pero el planteamiento de la gran mayoría resulta sorprendente por algún factor u otro. Tampoco creo que el título busque poner a prueba nuestra inteligencia, sino más bien centrarse en la historia y en dar al jugador algo que hacer mientras se mueve por entornos muy característicos.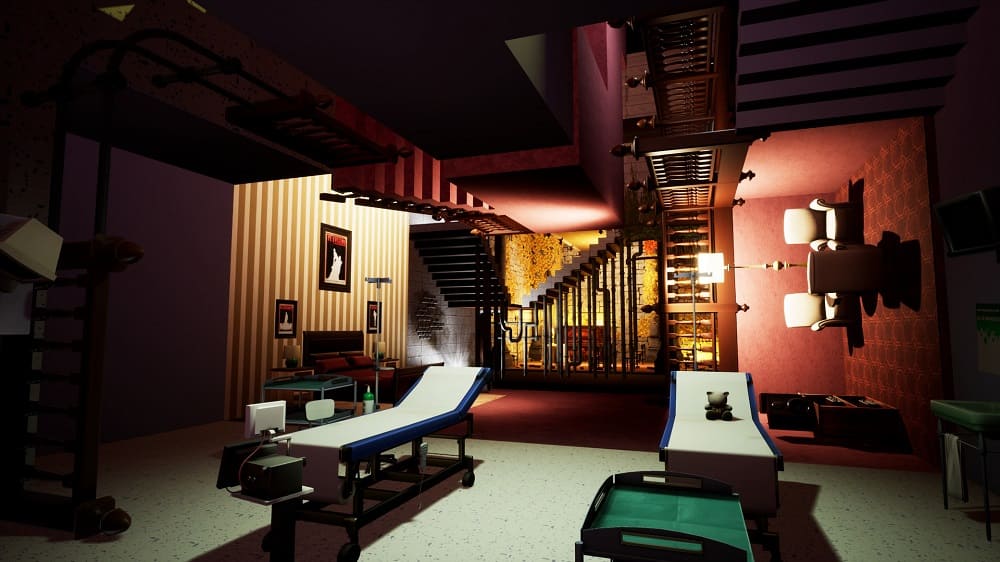 Estos entornos destacan por un estupendo trabajo artístico que constantemente me recordaban al Resplandor, sobre todo en las partes fuera del hospital, y que conforme avanzamos se retuercen (literalmente) más. Sumado a lo bien que luce en PlayStation 5, el recorrido es muy estimulante. Si es cierto que he echado en falta poder interactuar un poco más con el entorno, pero no olvidemos de que hablamos del primer trabajo de un estudio independiente. Por otra parte, las mecánicas son sencillas: movernos, coger objetos, agacharnos y hacer uso de la cámara. Esas serían nuestras facultades base que nos harán falta para escondernos de un monstruo que nos perseguirá durante la historia, aunque cabe decir que no es especialmente listo, pero que cumple su función de tensar. En algunos puntos llegar hasta la sala de vídeo es todo un alivio, o no…
El único bug que he encontrado me ha ocurrido precisamente en esta sala al terminar una de las grabaciones y volver a interactuar con el televisor. No podía moverme y tuve que reiniciar el juego desde el último punto de control. Más allá de eso, funciona perfectamente. También es de alabar el doblaje al castellano, no todos los juegos cuentan con esa posibilidad y, menos aún, de encontrar el gallego presente durante todo el título. Si bien este doblaje no es el más profesional, ya es más de lo que presentan muchos y se agradece a la hora de meternos de lleno en la trama.
Otro punto que destacaría del título es la ambientación en sí, pero centrada a nivel de detallismo. Como detalle curioso, os diré que encontrar un teléfono antiguo de Telefónica ha sido un viaje al pasado de pleno. También me ha encantado que aprovechen la ambientación del hospital para añadir mensajes tan importantes como es el donar sangre y por motivos así, el título me ha llegado más allá de la historia en sí. Revistas, fotografías, cartas explicativas, todo ellos aportan profundidad a un título que basa su premisa en una idea sencilla.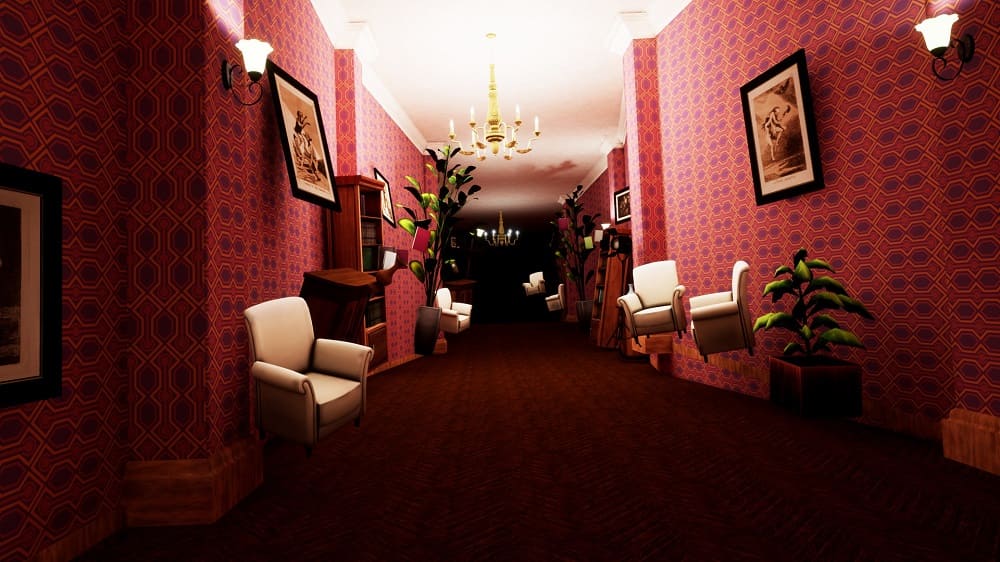 Por lo tanto, huelga decir que recomiendo echarle un vistazo a Tape: Unveil the Memories si os gustan las historias de intriga. Cuenta con un buen desarrollo narrativo, detalles interesantes, un buen apartado sonoro y, sobre todo, una inmersión desde casi el primer momento.
Agradecemos a BlackChilliGoat Studios la confianza depositada en nosotros al cedernos Tape: Unveil the Memories para su análisis.
Fanáticos del Hardware otorga la medalla de PLATA a Tape: Unveil the Memories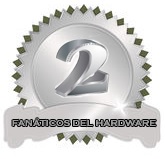 Esperamos que os haya gustado, suscribiros a nuestros canales tanto de Youtube como Twitch y seguidnos en nuestras RRSS como Twitter, Facebook e Instagram para estar al tanto de todas las novedades relacionadas con Videojuegos, Hardware y Tecnología.