Samsung está presentando durante estos días el futuro de la tecnología Micro LED en la feria ISE 2022 en Barcelona, con tres nuevos modelos de The Wall.
En la feria ISE de este año, Samsung presentará su modelo 2022 de The Wall (IWB), una innovadora pantalla modular Micro LED que ofrece experiencias de visualización envolventes en un formato gran tamaño en alta resolución. IWB estará disponible en los tamaños de 0,63 y 0,94 píxeles, siendo el tamaño de 0,63 píxeles el más delgado de la gama The Wall. La nueva pantalla ya está disponible para su reserva en todo el mundo.
IWB muestra la imagen más detallada de Samsung y una expansión del rango dinámico con tasa de refresco de 120Hz en la pantalla, HDR10/10+ y LED HDR. Tras su instalación, The Wall ofrece una variedad de tamaños de visualización, por ejemplo, para películas 4K de 110 pulgadas y hasta calidad 8K para 220 pulgadas; con el fin de satisfacer cualquier necesidad de consumidores y empresas.
Esta capacidad de resolución se ve reforzada por el potente procesador Micro AI (Inteligencia Artificial), que analiza cada segundo del contenido al instante y optimiza la calidad de la imagen mientras elimina el ruido.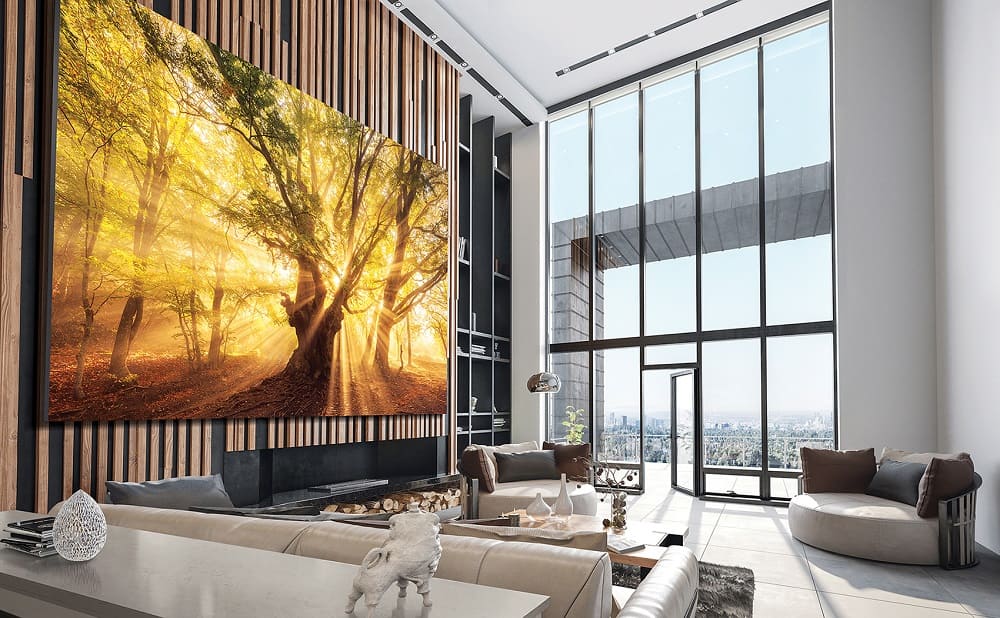 El tamaño total de los módulos se ha incrementado, lo que permite a las empresas y a los consumidores instalar sólo cuatro módulos para configurar la pantalla UHD, lo que supone un funcionamiento más rápido y rentable. El módulo mejorado de la pantalla refuerza las grandes pantallas de alta resolución y mejora la calidad mecánica para una visualización inmersiva, al mismo tiempo que se mejora el ajuste de las uniones. De hecho, el tiempo de instalación se ha reducido ofreciendo importantes ventajas a las empresas en comparación con la señalización LED convencional.
The Wall también incluye la última tecnología de la industria. En primer lugar, con la función Multi View, permite la reproducción simultánea de hasta cuatro fuentes en una sola pantalla, sin necesidad de ningún divisor adicional para la visualización de contenidos dinámicos. En segundo lugar, la tecnología Black Seal integrada en la pantalla crea un lienzo sin fisuras para obtener niveles de negro más puros, con una película de reflexión ultrabaja que se ha aplicado para minimizar el reflejo de la luz externa.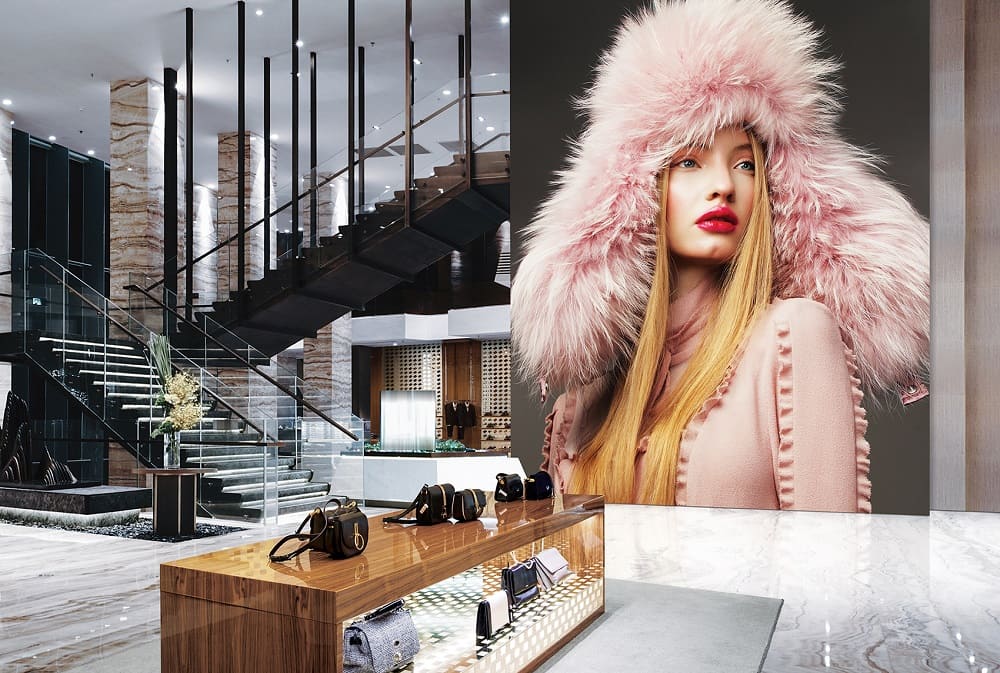 Además, con el procesamiento de 20 bits, The Wall ofrece una calidad de imagen excepcional y una experiencia de visualización fluida, con un máximo de 2.000 nits que proporciona imágenes más claras.
Este año también se presenta The Wall All-in-One (IAB), disponible en tres versiones diferentes: 4K de 146 pulgadas, 2K de 146 pulgadas y 2K de 110 pulgadas. Esta increíble pantalla de nueva generación aporta novedades en su instalación y experiencia de visualización. La resolución estándar de The Wall All-in-One tiene un formato 16:9, sólo se venderá online y estará disponible en todo el mundo tras la feria ISE.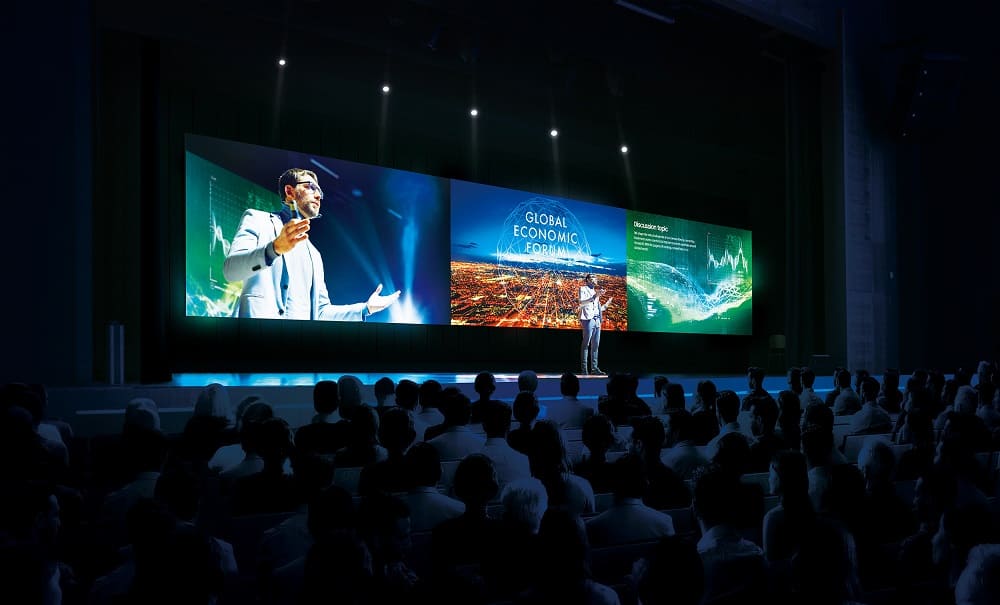 La característica más innovadora de The Wall All-in-One es su cómoda instalación, que cuenta con una unión preajustada y un "kit de marco preensamblado". Este kit permite que el proceso sea tan sencillo como el de un televisor de consumo, incluye el marco decorado interno de la pantalla 16:9 y una caja integrada reproductor multimedia S-box, lo que también reduce el coste total.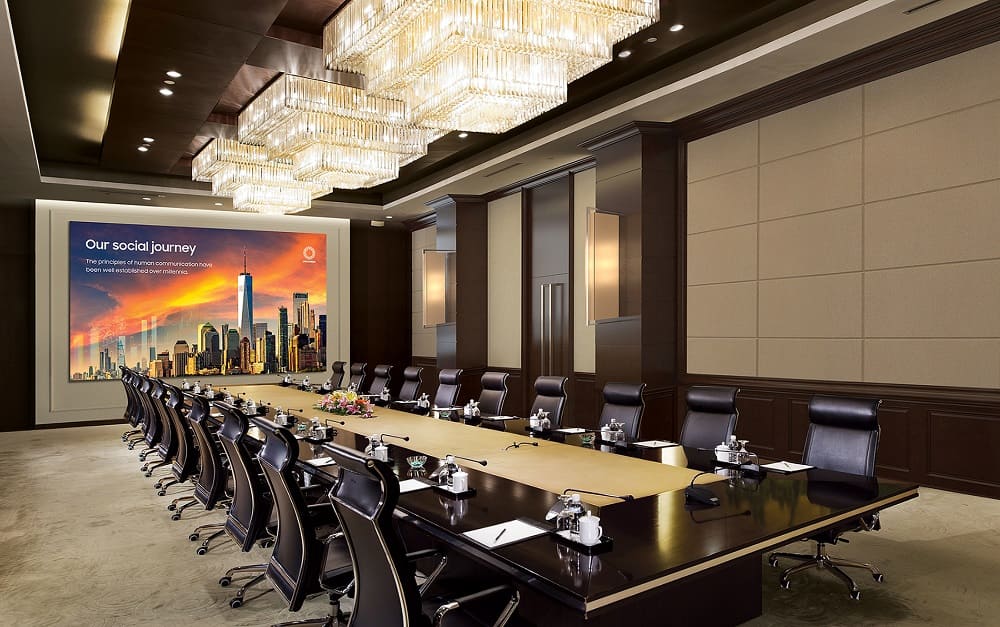 The Wall All-in-One ofrece un diseño elegante con una fina pantalla de sólo 49 mm, que en conjunto es de 59 mm cuando se mide desde la pared a la pantalla. Este diseño infinito, delgado y sin marcos, proporciona una conexión de entrada directa en la pantalla sin necesidad de un equipo independiente, lo que crea una configuración limpia y cómoda.
Además, junto con el procesamiento de 20 bits, la tecnología Black Seal y el procesador Micro IA, se pueden instalar dos pantallas 4K de 146 pulgadas una al lado de la otra para crear un formato 32:9 con una función desmontable que crea toda una pared con una excelente calidad de imagen.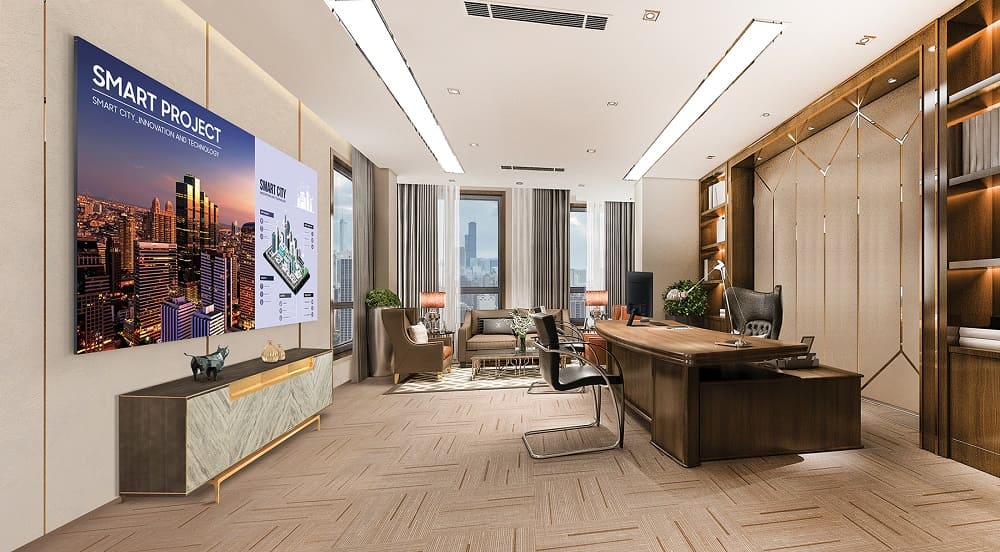 Junto con la tecnología Micro LED, Samsung presenta en ISE nuevos productos que cubrirán las necesidades de visualización para una nueva era. La nueva línea pone de relieve la continua innovación de Samsung en la creación de soluciones que incluyen funciones como la comunicación sin contacto y mejoras en la seguridad.
La última gama para exteriores 2022 de Samsung (OHA 55", 75") ha sido verificada en cuanto a visibilidad en exteriores por Underwriters Laboratories (UL). Su composición permite una fácil instalación y un rendimiento a largo plazo gracias a la protección certificada con categoría IP56. Con un hardware duradero, OHA puede funcionar en múltiples condiciones. Uno de los casos de uso es el de las estaciones de carga de vehículos eléctricos, cuya demanda aumenta a medida que las ventas de vehículos eléctricos siguen creciendo en todo el mundo.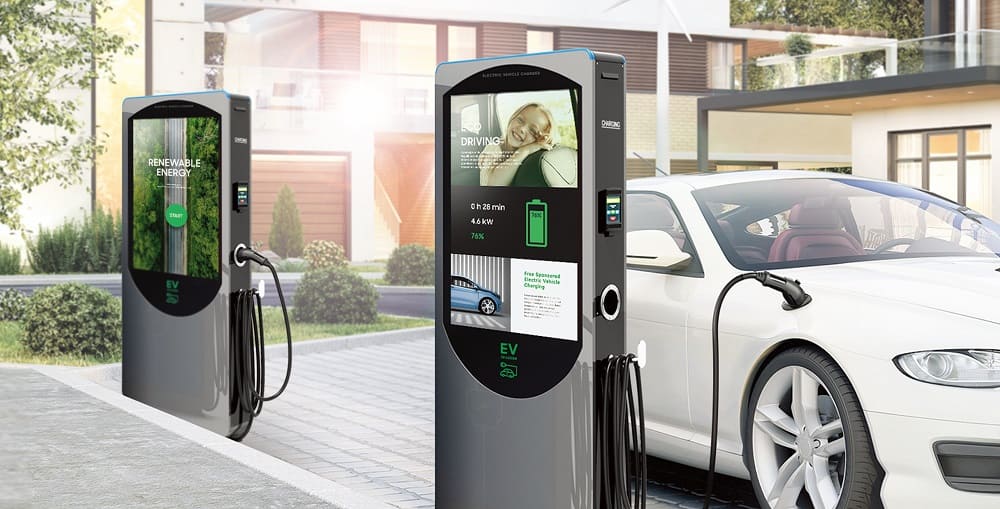 En el ámbito de la educación, Samsung continúa aportando experiencias de aprendizaje híbridas con sus innovadores productos y soluciones. El nuevo Samsung Flip Pro 2022 (WMB), disponible en dos modelos de 75 y 85 pulgadas, es una pizarra interactiva para profesores y estudiantes, con mayor facilidad de uso y características pensadas para satisfacer las necesidades educativas.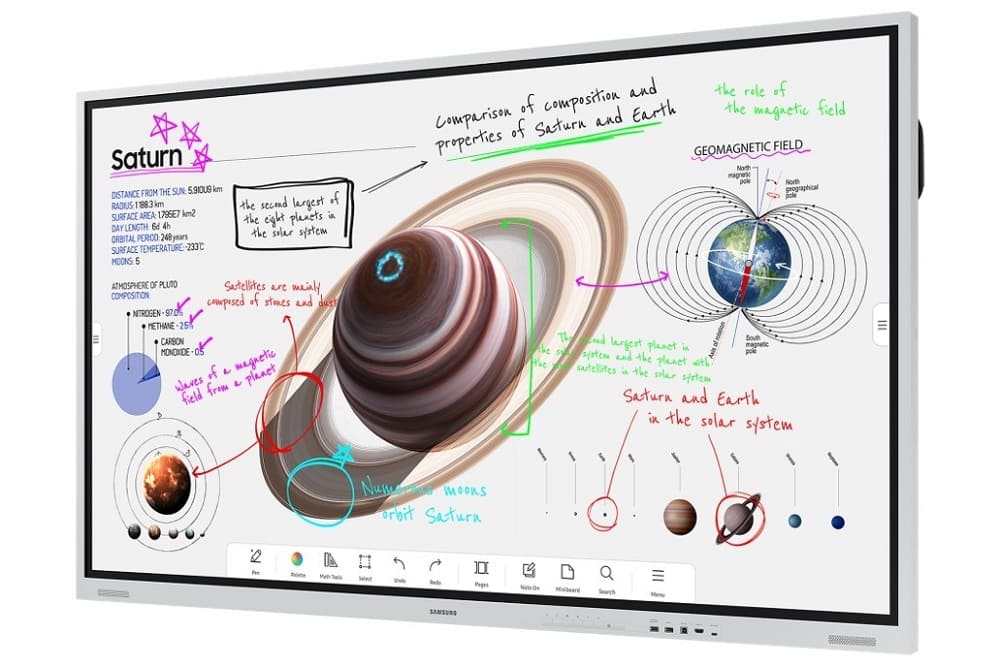 La nueva conectividad USB Tipo-C de Samsung Flip Pro ofrece control de vídeo y alimentación integrados (carga de 65 W), mientras que la latencia y las funciones multitáctiles permiten la colaboración simultánea de hasta 20 personas. El nuevo panel de control intuitivo, los sensores de control de brillo y los cuatro altavoces orientados hacia la parte delantera y trasera mejoran la experiencia general del aula y permiten una comunicación por vídeo perfecta en un entorno de aula remota o híbrida.
Por último, con SmartView+, se pueden conectar simultáneamente hasta 50 dispositivos a la pantalla de forma inalámbrica, además de visionar diferentes contenidos en hasta cuatro unidades, lo que resulta ideal para las salas de reuniones más grandes y las aulas digitalizadas. La tecnología funciona perfectamente en segundo plano, lo que hace que el producto sea fácil de usar tanto para los profesores como para los alumnos.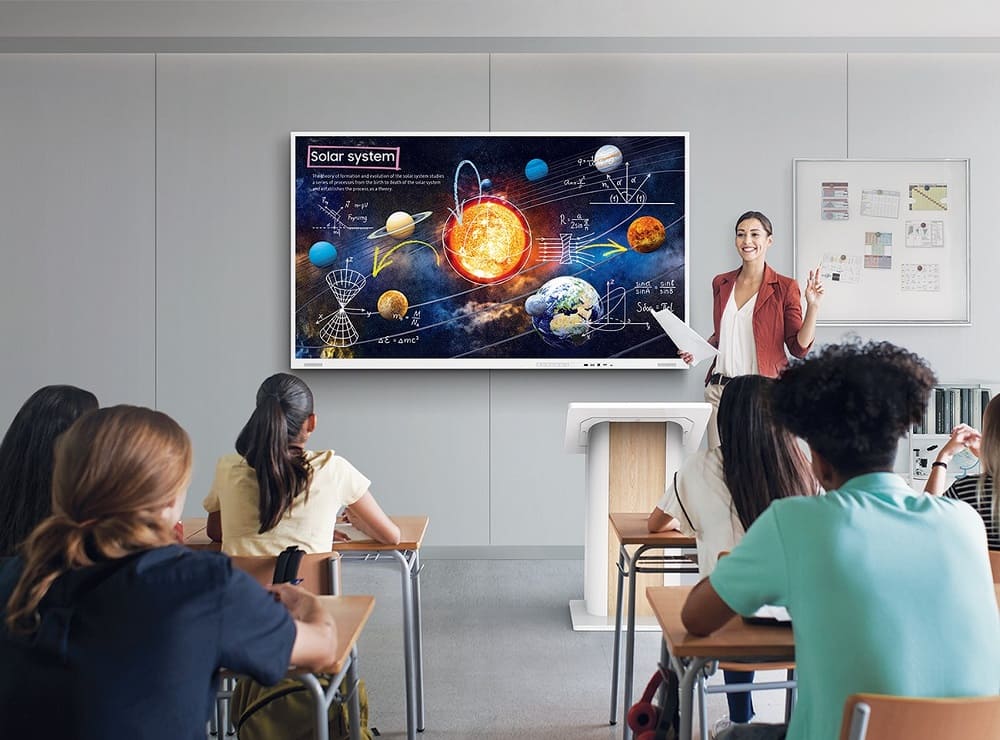 La web de Experiencia Virtual de ISE 2022 permite a los visitantes experimentar virtualmente los productos y soluciones de visualización que se expondrán en la feria.