Hemos recibido una nota de prensa por parte de ARVORE, os la dejamos a continuación:
Pixel Ripped 1995: Una Carta de Amor al Videojuego Clásico se lanza este 23 de abril en Oculus y Steam VR
La versión para PSVR llegará en mayo
El estudio y publisher brasileño ARVORE tiene el placer de anunciar que Pixel Ripped 1995 se lanzará el próximo 23 de abril en las plataformas Oculus Quest, Oculus Rift y Steam. Además, ARVORE quiere agradecer a todos los fans de la comunidad de PlayStation VR por su paciencia, ya que el lanzamiento de Pixel Ripped 1995 para esta plataforma llegará un poco más adelante. El juego ya ha sido enviado al proceso de certificación y se espera que esté disponible mayo.
En este nuevo capítulo de la aclamada serie Pixel Ripped, los jugadores se sumergirán en un inolvidable y nostálgico viaje a 1995 en forma de carta de amor en Realidad Virtual a los juegos clásicos. Ambientado en una era en la que los sistemas evolucionaban de los 16 a los 32 bits y los jugadores de consola de primera generación maduraban de adolescentes a adultos, los jugadores harán un viaje dentro (y fuera) de sus pantallas para salvar el universo. En Pixel Ripped 1995, nuestra heroina Dot unirá sus fuerzas con el mejor jugador del momento, un modesto niño de 9 años llamado David, para enfrentar desafíos juntos a través del mundo de los juegos 2D y los primeros juegos en 3D.
Los jugadores revivirán la adrenalina de aquellos momentos en los que intentaban jugar con sus videojuegos después de acostarse sin que sus padres lo supiesen, o la emoción de finalmente encontrar ese nuevo juego en el video-club de barrio. Se divertirán y emocionarán jugando a homenajes a los mejores juegos y géneros de la década de los 90: acción y RPG, lucha, plataformas, shooters espaciales y carreras. Y lo harán mientras esquivan la indignación de los padres molestos a través de múltiples entornos: el salón, dormitorio, video-club, la sala de juegos en el puerto y más. Con 6 niveles completamente originales, donde cada uno se siente como un juego completamente diferente, Pixel Ripped 1995 es un viaje increíble para los jugadores amantes del retro y de la realidad virtual.
Desde los primeros días de trabajo en el proyecto ha habido una conexión muy especial entre el equipo de desarrollo y la comunidad de Pixel Ripped, tanto es así que el futuro de la serie está siendo decidido por los propios fans. Aquellos jugadores que completaron el primer juego, Pixel Ripped 1989, encontraron una máquina del tiempo que les permitió elegir su año favorito, y los desarrolladores usaron los datos de todas las votaciones de los jugadores para decidir cuando tendría lugar el próximo juego de la saga: en 1995.
El desarrollo de Pixel Ripped 1995 fue liderado por la mente creativa de su directora, Ana Ribeiro, quien no solo tiene superpoderes creativos, sino que también personifica a Dot, la heroína del juego. Ana y el resto del equipo de ARVORE han estado totalmente comprometidos en un trabajo lleno de corazón, construido desde cero para Realidad Virtual. Los jugadores de todas las principales plataformas de realidad virtual vivirán una experiencia mágica que los sorprenderá con el uso innovador de mecánicas clásicas, guiños a juegos que marcaron toda una generación, diálogos divertidos, muchos secretos y, por supuesto, la dificultad desafiante que era de esperar en los clásicos de los 90.
"Gracias al éxito del primer juego pudimos dedicar más recursos y usar toda nuestra experiencia previa para crear un juego que es una aventura nostálgica, aún más sorprendente. El escenario de 1995 nos brinda muchos clásicos geniales para referenciar y un mundo completamente nuevo para explorar", dice Ricardo Justus, CEO y co-fundador de ARVORE.
El Origen de la Saga: Pixel Ripped 1989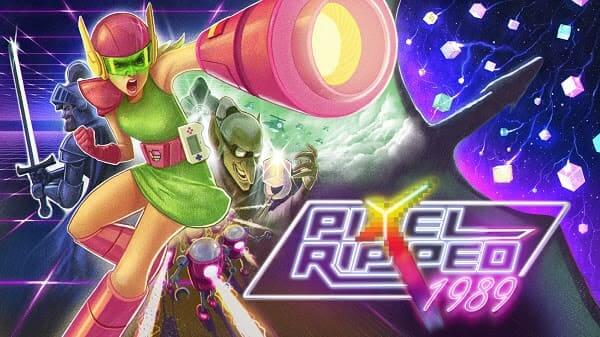 Lanzado en julio de 2018, y con más de 17 premios y nominaciones, Pixel Ripped 1989 es un loco homenaje multidimensional a los primeros años de los videojuegos. El jugador se embarca en un viaje a los mandos de un videojuego clásico y más allá de la pantalla. Ambientado en la era de las consolas portátiles de 8 bits, este juego dentro de un juego sigue las aventuras de Dot, un personaje que ve su mundo destrozado por el Cyblin Lord, un villano capaz de romper la barrera del videojuego, atravesar la pantalla e invadir el mundo real.
En Pixel Ripped 1989, el jugador encarna a Nicola, una estudiante de segundo curso que debe ayudar a Dot a salvar ambas realidades de la amenaza del Cyblin Lord al enfrentar desafíos en el mundo 2D de los juegos retro, todo mientras distrae a la malhumorada maestra y escapa del furioso director en su mundo 3D.
El juego recibió financiación de Oculus, así como numerosos premios y nominaciones internacionales:
New Face Award at the 22nd Edition of the Japan Media Arts Festival
Most Innovative Game – BIG Festival 2019
Best VR Games Showcase – SIGGRAPH 2019
Best VR Game at GDC 2018 – Tom's Guide
Best VR Game Selection 2018 – VR Awards
IndieCade 2018 – Official Selection
Most Innovative Game 2018 – Lisboa Games Week
Most Innovative Selection 2017 – Proto Awards
Best Original Score Selection 2017 – Proto Awards
Best Virtual Reality Game 2015 – AMAZE Festival 
IndieCade 2015 – Official Selection
Best Demo Pitch 2014 – Intel
Pixel Ripped 1989 está disponible en las siguientes tiendas:
Mini-documental sobre Ana Ribeiro y Pixel Ripped 1989, filmado por el equipo de Windows Developer.
Para más información, visita PixelRipped.com o Arvore.io.