La edición especial física de Song of Horror, el aclamado juego de terror desarrollado por Protocol Games y publicado por Raiser Games, ya está disponible para la plataforma PlayStation 4.
Song of Horror rinde homenaje a los clásicos del género survival horror, ofreciendo una aventura de terror en tercera persona con cámaras fijas. Ayuda a su protagonista, Daniel Noyer, a resolver la misteriosa desaparición del famoso escritor Sebastian P. Husher.
Song of Horror: Deluxe Edition para PlayStation 4 llega a las tiendas especializadas de toda Europa y Australia con contenido exclusivo. Esta edición, perfecta para los fans del género, y los amantes del coleccionismo, incluye una funda especial con la icónica ilustración de La Presencia, la entidad misteriosa controlada por la avanzada IA del juego que se adapta a tu forma de jugar. Además, incluye, una guía de mapas con pistas y ayudas, que será el complemento ideal para la exploración de los diferentes escenarios. Y, por si fuera poco, una guía de personajes, que recopila todas las curiosidades sobre los 13 protagonistas jugables que podrás utilizar en esta terrorífica aventura.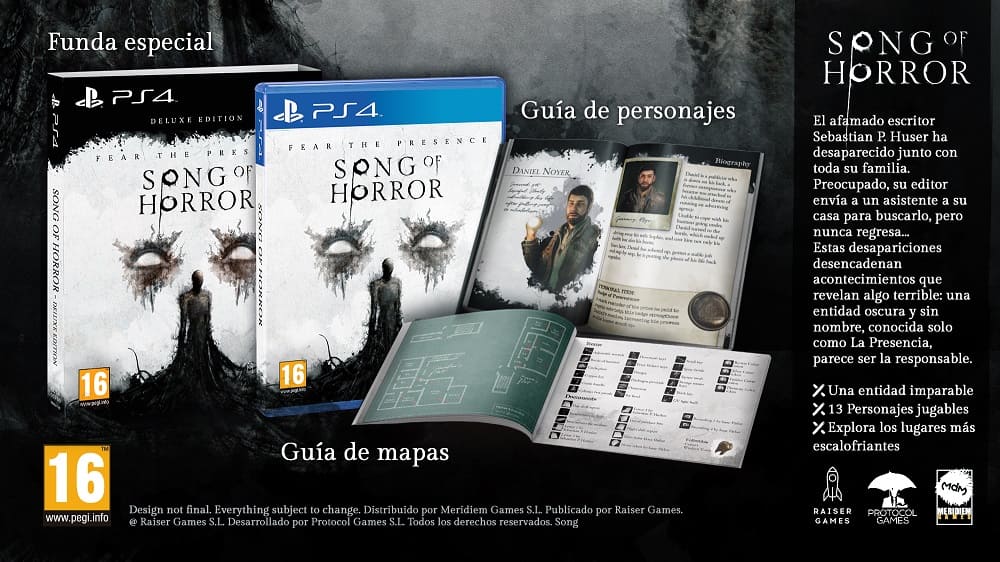 Aquellos jugadores que fueron los primeros en realizar la reserva de Song of Horror: Deluxe Edition en las Tiendas Game, recibirán también un exclusivo set de cartas del tarot inspiradas en el propio juego. Esta baraja se compone de 5 cartas, en las que se muestran las distintas manifestaciones de La Presencia: La Puerta, La Oscuridad, El Silencio, El Abismo y El Requiem. Este incentivo será limitado, y podrá obtenerse hasta agotar existencias.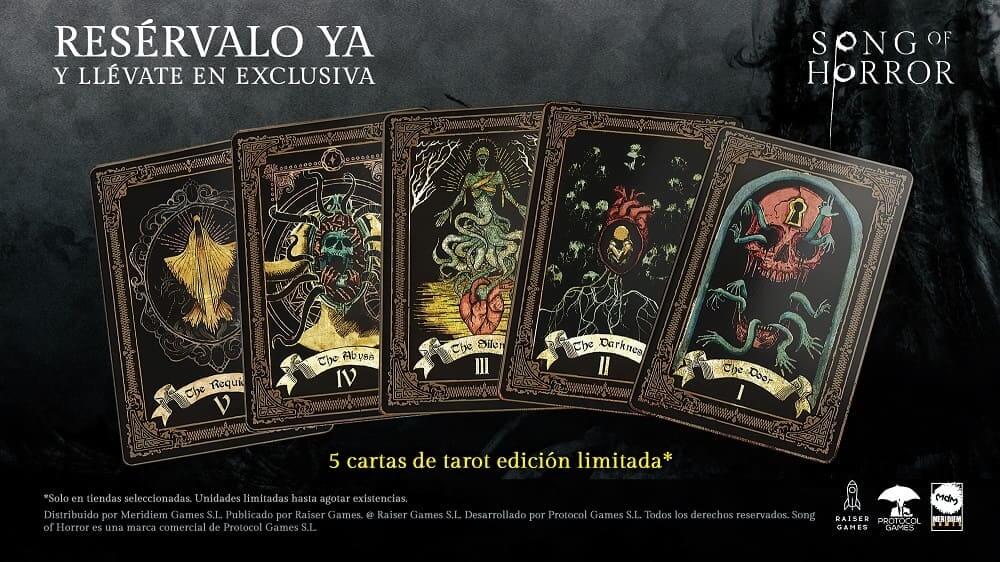 Song of Horror es una aventura de terror en tercera persona, en la que el foco está en huir y esconderse, tratando de sobrevivir a las desconcertantes manifestaciones de La Presencia, manteniendo la calma en medio del pánico. La amenaza constante de La Presencia,mantiene a los jugadores alerta de principio a fin. La misión de Song of Horror es mantenerte constantemente en tensión, y no darte un respiro.
Características
Una temible entidad: gracias a una avanzada IA, experimentarás el verdadero terror mientras La Presencia te persigue de forma inesperada, respondiendo a tu manera de jugar. Ofrece una experiencia única a cada jugador adaptada a su forma de juego, donde la tensión se genera de forma orgánica en tiempo real sin depender de secuencias predefinidas.
13 personajes jugables: vive la historia a través de diferentes protagonistas. Sus acciones y decisiones condicionarán tu percepción de la narrativa del juego; algunos de ellos conocerán determinados aspectos de la historia, otros serán más efectivos contra manifestaciones sobrenaturales… pero todos podrán morir a manos de La Presencia. Cuando esto suceda, deberás retomar la historia con otro personaje y continuar la investigación para que sus muertes no sean en vano. Si lo prefieres, también podrás adaptar la dificultad de tu partida y jugar al modo sin muerte permanente.
Explora lugares terroríficos: una misteriosa tienda de antigüedades, una abadía olvidada, un manicomio abandonado… Cada ubicación de Song of Horror está inspirada en un clásico del género de terror. Explora e investiga lugares encantados para reunir pistas y elementos que te ayudarán a resolver desafiantes acertijos, si soportas la tensión agonizante de la atmósfera del juego.