Riot Games ha anunciado el siguiente torneo mundial de Teamfight Tactics (TFT), el juego de estrategia basado en el universo de League of Legends, el campeonato de Teamfight Tactics: Destinos. El campeonato de Destinos se celebrará entre el 7 y el 9 de abril, mientras que los torneos de clasificación regionales de todo el planeta ya están en marcha. Jugadores de Norteamérica, Latinoamérica, Brasil, Europa, Asia y Oceanía podrán clasificarse a través de sus respectivos torneos regionales.
"Teamfight Tactics sigue siendo uno de los títulos que más rápido ha crecido gracias a su accesibilidad y profundidad", explica Whalen Rozelle, Sr. Director de Esports en Riot Games. "Para igualar la gran demanda que hay en la organización de la competición, para este campeonato de Destinos hemos incrementado la bolsa de premios y el número de jugadores que pueden clasificarse para el evento. Además, exploraremos nuevas formas de celebrar este esport de manera global en el futuro".
La comunidad competitiva de Teamfight Tactics no ha parado de crecer y, por ello, Riot va a aumentar tanto la cantidad de oportunidades disponibles para los jugadores como el premio del evento. En el campeonato de Destinos participarán 24 jugadores para hacerse con los 250.000 dólares en premios de esta competición en línea.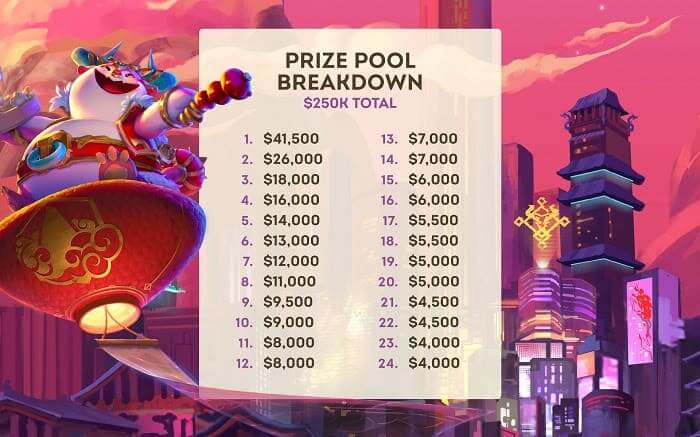 El campeonato de Destinos también contará con un nuevo formato suizo de tres días:

Primer día: se pasará de 24 a 16 participantes a lo largo de cinco rondas suizas. Se repartirá a los jugadores entre tres grupos, en base a sus rendimientos regionales.

Segundo día: se pasará de 16 a 8 participantes a lo largo de cinco rondas suizas. Se repartirá a los jugadores entre dos salas en base a sus rendimientos durante el primer día.

Tercer día: los jugadores competirán para acumular puntos. El primer jugador que gane tras acumular 18 puntos se convertirá en el campeón de TFT: Destinos.
Actualmente, los jugadores europeos se encuentran en la segunda semana de las tres que forman el ciclo competitivo para conseguir el pase al clasificatorio europeo. Cada semana sumarán puntos en función de su posición final en la clasificación dentro del cliente de League of Legends. Toda la información aquí.

Desde 2019, TFT se ha convertido en un juego líder en su género, con 80 millones de jugadores a nivel global desde su lanzamiento. En el anterior campeonato global de TFT se vio a cientos de jugadores intentar estar entre los 16 finalistas, entre los que estaba KCDouble61, el jugador francés que se proclamó el primer campeón mundial de TFT.

Conforme se acerque la fecha del evento, Riot Games compartirá más detalles sobre los participantes clasificados y la retransmisión, así como información adicional sobre el torneo.