Hard Copy Games se complace en anunciar que The Eternal Castle [REMASTERED] dirigida por Leonard Menchiari estará disponible el 24 de junio en Playstation 4 y 5 al precio de 14.99 EUR, una edición física limitada llegará a finales de 2021. The Eternal Castle [REMASTERED] es una aventura cinemática que se desarrolla en perspectiva lateral y recuerda a obras maestras de género, como Prince of Persia y Another World. Ha sido desarrollado por TFL Studios, equipo compuesto de tan solo 3 personas.
"Es una obra maestra neo-retro. Esta epopeya post-apocalíptica minimalista permanecerá en tu cabeza durante años" – Gonçalo Lopes (Nintendo Life)

"A pesar de las limitaciones del estilo visual 2-bits, presenta uno de los mundos más evocadores que he visto en un juego" – Sam Greer (Eurogamer

)
Para los coleccionistas de todo el mundo, Hard Copy Games publicará el juego en formato físico con una tirada limitada de 1000 copias, la cual está prevista para su lanzamiento a finales de presente año 2021. Habrá dos variantes de la portada y posiblemente algunos extras a definir, lo que hará esta edición aún más coleccionable.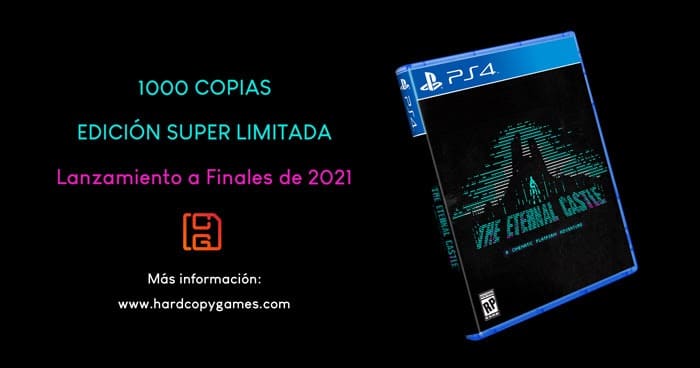 Este plataformas cinemático desarrollado únicamente por 3 personas lleva al jugador a través de un intenso viaje lleno de peligros y desafíos a través de la acción frenética cuerpo a cuerpo, tiroteos y sigilo. Sumérgete en niveles con eventos aleatorios, encuentros, trampas, rompecabezas y exploración, en un decadente mundo semi-procedural diseñado para favorecer la rejugabilidad. Cada fase presenta una atmósfera única, con una historia escrita a través de diferentes experiencias personales y de terceros, adaptada para encajar en una realidad que ocurre varios cientos de años en el futuro, durante la era post-inteligencia artificial.
CARACTERÍSTICAS:
Aventúrate sólo o con un amigo en modo cooperativo local

Juega más de 20 niveles en 5 fases únicas.

Enfréntate a grandes jefes al final de cada fase, más 2 jefes finales

Encuentra hasta 10 armas diferentes que están repartidas por los niveles

Equípate con hasta 10 artículos que te darán habilidades únicas

Encuentra 30 fragmentos perdidos que te permitirán regresar a casa

Repite el sueño tantas veces como puedas antes de morir oficialmente

Desbloquea el episodio extra, "Lost Cuts", y descubre un valiente sacrificio

Además del juego base, podrás desbloquear el acceso a los modos PvP versus, el modo secreto en el Dojo y "Death Arena"
The Eternal Castle [REMASTERED] también está disponible en Nintendo Switch por 14,99 EUR en Windows PC a través de Steam y Utomik.