Hemos recibido una nota de prensa por parte de MSI que os vamos a dejar a continuación.
MSI ANUNCIA SUS NUEVOS EQUIPOS CON UNA MAYOR EFICIENCIA
LA WT73VR, WS63 Y WE72/62 ESTÁN PREPARADAS PARA EXPANDER LAS OPORTUNIDADES DE DISEÑADORES Y MODELADORES 3D EN MOVIMIENTO.
Taipei, Taiwan – MSI anuncia hoy nuevos modelos equipados con la última generación de procesadores de 7ª Gen. Intel® Core™ i7 y nuevas gráficas NVIDIA® Quadro®. Con un fluido rendimiento optimizado para la VR y trabajo CAD/CAM, las workstation portátiles son las soluciones más actual para cualquier diseñador y editor multimedia. La combinación de características avanzadas y un diseño maravilloso es la pieza definitiva para aquellos que no quieren hacer concesiones.
WT73VR: Rendimiento entusiasta con soporte VR
Las Workstation MSI son las primeras del mundo en soportar por completo aplicaciones VR. La WT73VR es un nuevo modelo equipado con procesador Intel® Xeon®. La tecnología Intel's Error Correcting Code (ECC) y el soporte de memorias ECC DDR4 proporcionan un Nuevo nivel de eficiencia y una estabilidad 24/7 que realmente impresionará a los usuarios.
La recién anunciada NVIDIA® Quadro® P5000 con 16GB GDDR5 está preparada para ofrecer un impresionante rendimiento cuando utilizas aplicaciones como Autodesk Stingray con un dispositivo VR y otras aplicaciones exigentes como CAD/CAM. Este nivel de excelencia hace hace que la Workstation se convierta en la mejor plataforma para crear contenido de realidad virtual y un nivel de portabilidad nunca visto.
A diferencia de los ordenadores tradicionales con la tecnología NVIDIA® Optimus™, WT73VR la gráfica NVIDIA® proporciona el máximo rendimiento en todo momento. El panel de 17.3 pulgadas equipa una resolución UHD o FHD 94% NTSC para entregar la mejor experiencia visual con la tecnología True Color permitiendo un soporte del estándar sRGB del 100%. Altamente fiable y multifuncional, la WT73VR ocupa el primer lugar en cuanto a workstation de alto nivel en el mercado.
WS63: La más fina y rápida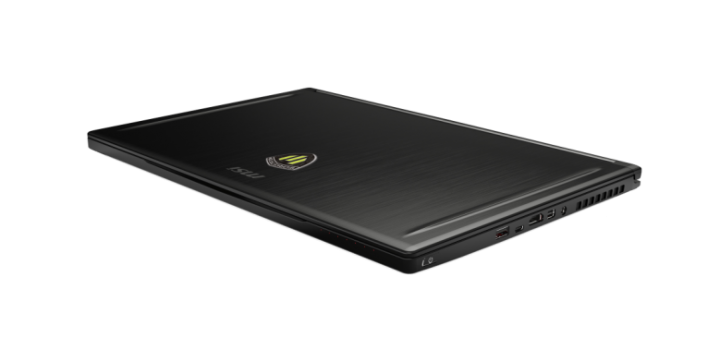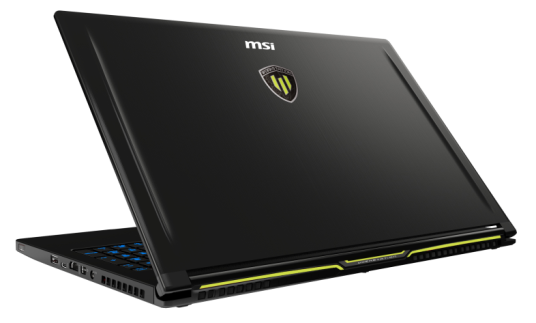 Impresionantemente ligera y delgada, la serie WSA presenta la nueva WS63. Pesando únicamente 1.8 kg, WS63 es también extremadamente delgada: únicamente 17.7 mm. Un chasis de aluminio con un diseño elegante y robusto para soportar el uso diario. A la vez, una poderosa herramienta de productividad y altamente eficiente como sólo MSI puede hacer y una habilidad única para combinar gaming y movilidad. WS63 está equipado con la 7ª Gen de procesadores Intel® Core™ i7 y siendo la única workstation portátil con la NVIDIA® Quadro® P3000 con 6GB GDDR5. Presentando la memoria RAM ultra rápida DDR-2400 RAM and M.2 NVMe SSD.         
El máximo rendimiento está asegurado gracias a la más avanzada tecnología en refrigeración que incrementa el flujo de aire en un 30% y entrega la más alta estabilidad bajo las condiciones más exigentes. La tecnología exclusive MSI Cooler Boost Trinity consiste en 3 ventiladores y 5 heat pipes que extraen el calor hacia el exterior del equipo para siempre mantenerlo en las mejores condiciones.
El panel 15.6″ UHD IPS equivalente entrega unos colores nítidos y precisos colores con la posibilidad de personalizarlos gracias a la exclusiva tecnología MSI True Color. Una innovativa An innovative and exclusive feature of WS63 is the touchpad with finger print lock. The biometric security is an advanced level of ensuring data security and thus providing the users with absolute confidence regarding their valuable work and other files are always protected.

WE72/62: El mejor aliado para los diseñadores junior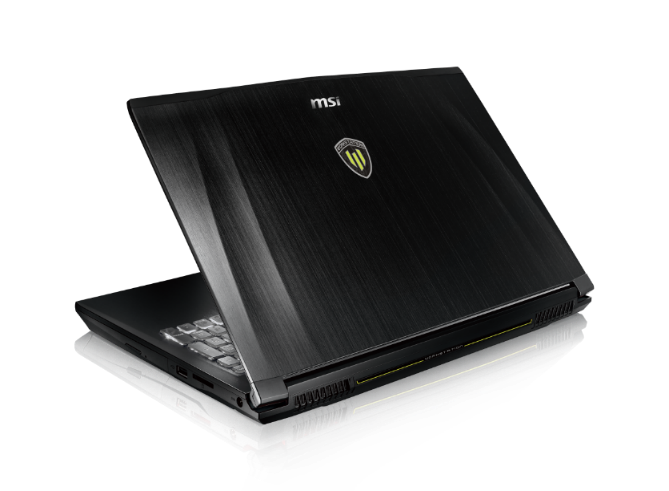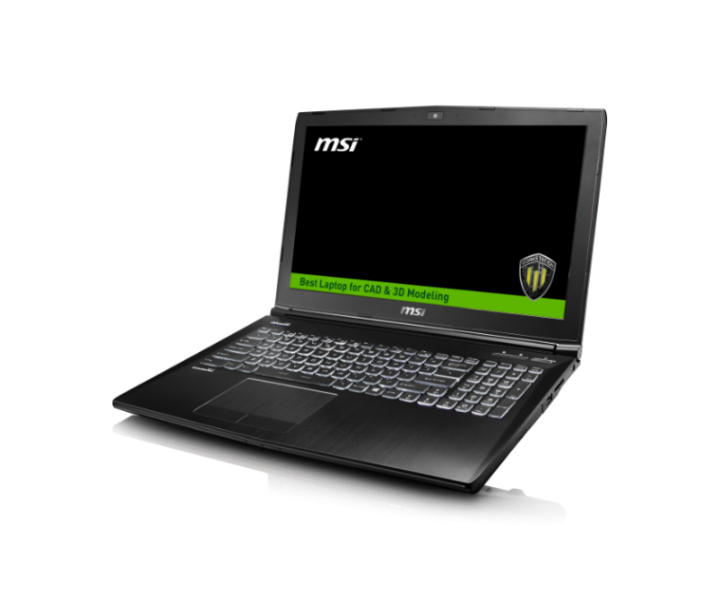 La serie WE representa la excelencia con una perfecta relación calidad/precio para los usuarios exigentes y futuros profesionales. Equipado con la última generación de procesadores Intel® Core™ i7 y gráficas NVIDIA® Quadro® M2200 con 4GB GDDR5, DDR4-2400 RAM y SSD M.2 NVMe, los modelos pueden trabajar de forma sencilla y eficiente con CAD/CAM para los usuarios más creativos.
El WE72 equipa un panel 17.3″ FHD 94% NTSC con la tecnología True Color Technology que soporta 100% Srgb mientras el WE62 está equipado con un panel 15.6″ FHD. Ambos modelos presentan la funcionalidad de ángulos de visión amplios para un mayor confort y posibilidades visuales mayores. Con un panel táctil de alta calidad y preciso ofrece una alta eficiencia y estabilidad para uso prolongado. La tecnología MSI Cooler Boost 3 asegura el máximo rendimiento durante las largas jornadas de trabajo. Los altavoces de alta gama Dynaudio entregan una auténtica experiencia de audio. Con una gran relación entre rendimiento/precio, la serie WE es una opción ideal para educación y aplicaciones.